A paradise for the kayaker who wants to stretch the season or start it with "happiness"
Smugglers' Route of All Time
summer 2019

ratio : 1 guide for 6 participants
Historically Iroquois territory, then loyalist after the American Civil War, the Thousand Islands are now the dream of any vacationer seeking "his" island to establish his haven of peace.
Composed of a multitude of island archipelago of all shapes and sizes with varied reliefs, homes that are perched are equally impressive as each other. From simple cabanons, to fairytale castle, enough to dream for all tastes.
Besides the houses of dreams, one of the major attractions of the archipelago is wildlife. Due to the microclimate warming the region, there are several species at the edge of their habitat. In addition, the St. Lawrence Valley is a crossroads of the five major forest regions of eastern North America. The Thousand Islands are at the center of this south / north, north / south migratory axis. The archipelago is a mandatory stop for many migratory birds to the delight of ornithologists. Have you ever heard a flight of swans …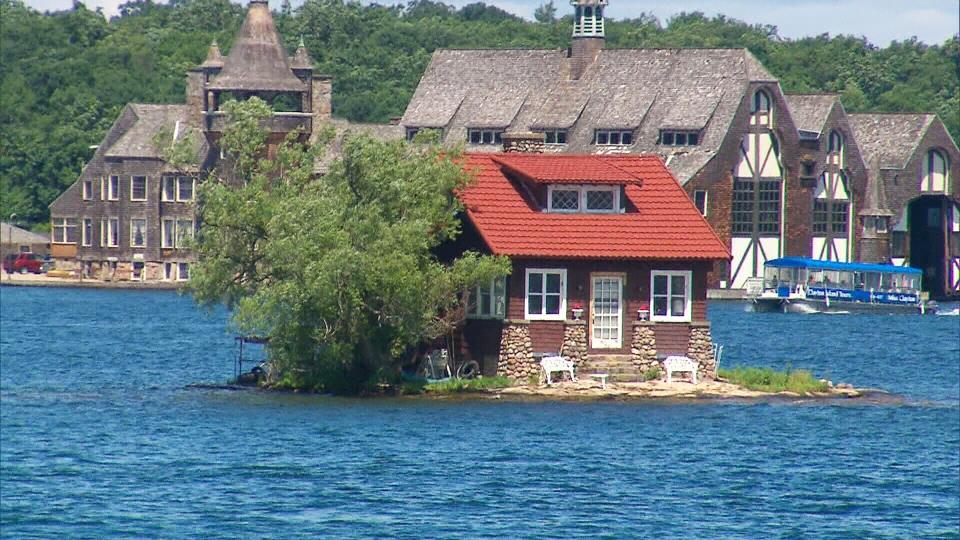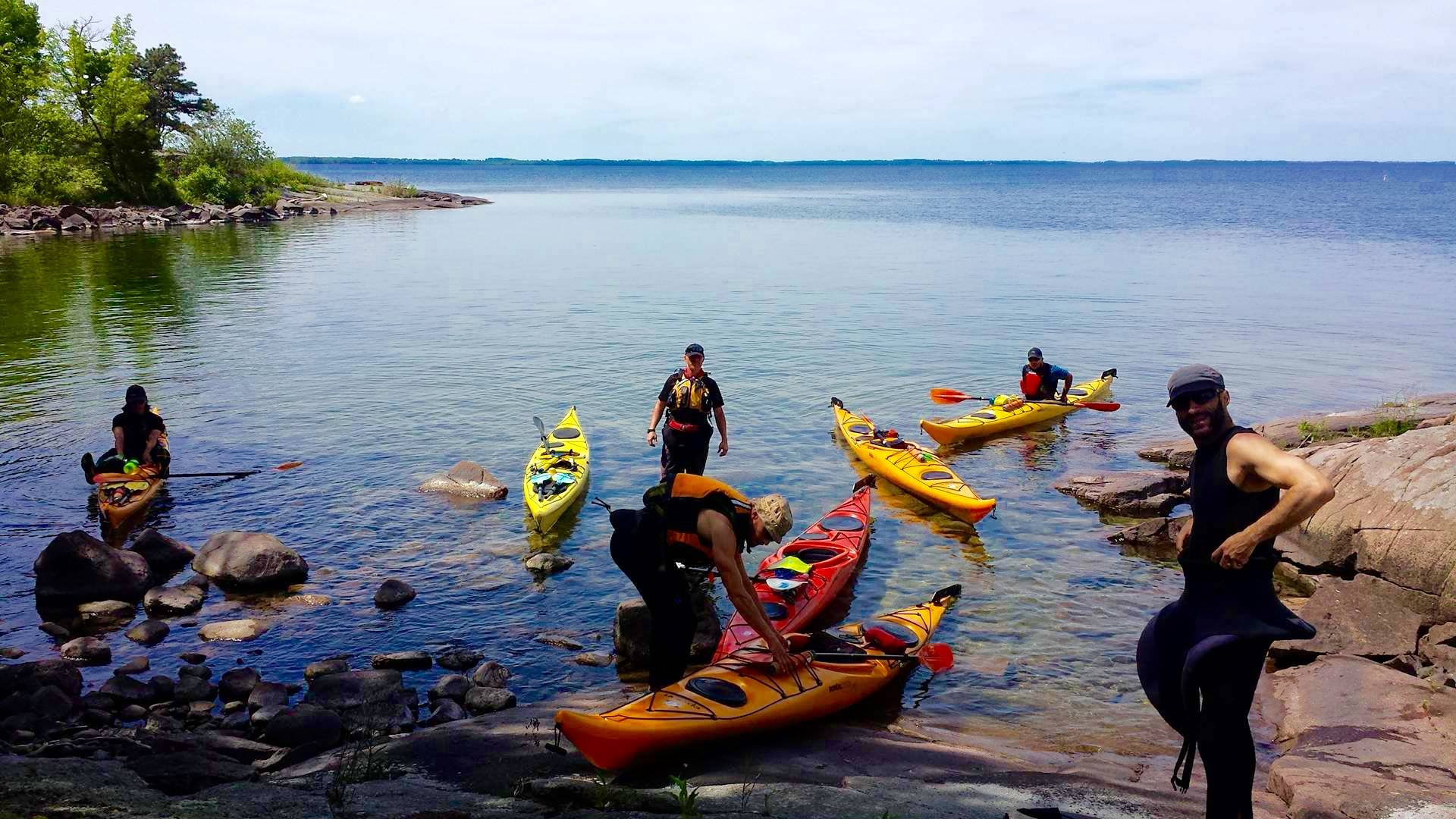 DAY 1 : Transportation and kayaking
Leaving Quebec City or Montreal early in the morning to get to our starting point near Kingston, where we will launch on a beautiful sandy beach hoping not to disturb the families of Red-winged Carob in the nearby cattails . Our first night will be in Thousand Islands National Park after an afternoon paddling through a clear water channel to finally arrive on "our" island.
Route : 5h30 from Québec – 3h from Montréal
Sea Kayaking : 10km
Accomodation : Aubrey Island Camping
DAY 2 : Thousand Islands National Park Kayaking
Get lost in a meander of thousands of islands, sailing on a clear and transparent water allowing us to see the seabed. This is what awaits us all day. What a pleasure it is to look at the most interesting chalets and to disturb the Canada Geese who act as a "watchdog" when the owners are not there! Thousand and one idea and envy comes to mind … We will land for a second night in a smuggler's cove.
Sea Kayaking : 20km
Accomodation : Ivy Lea Campground
DAY 3 : Kayaking and return transportation
A last day of kayaking to gorge on extraordinary landscape before heading to our last point of departure in this natural labyrinth to return to Montreal or Quebec City.
Sea Kayaking : 10km
Route : 5h from Québec – 2h30 from Montréal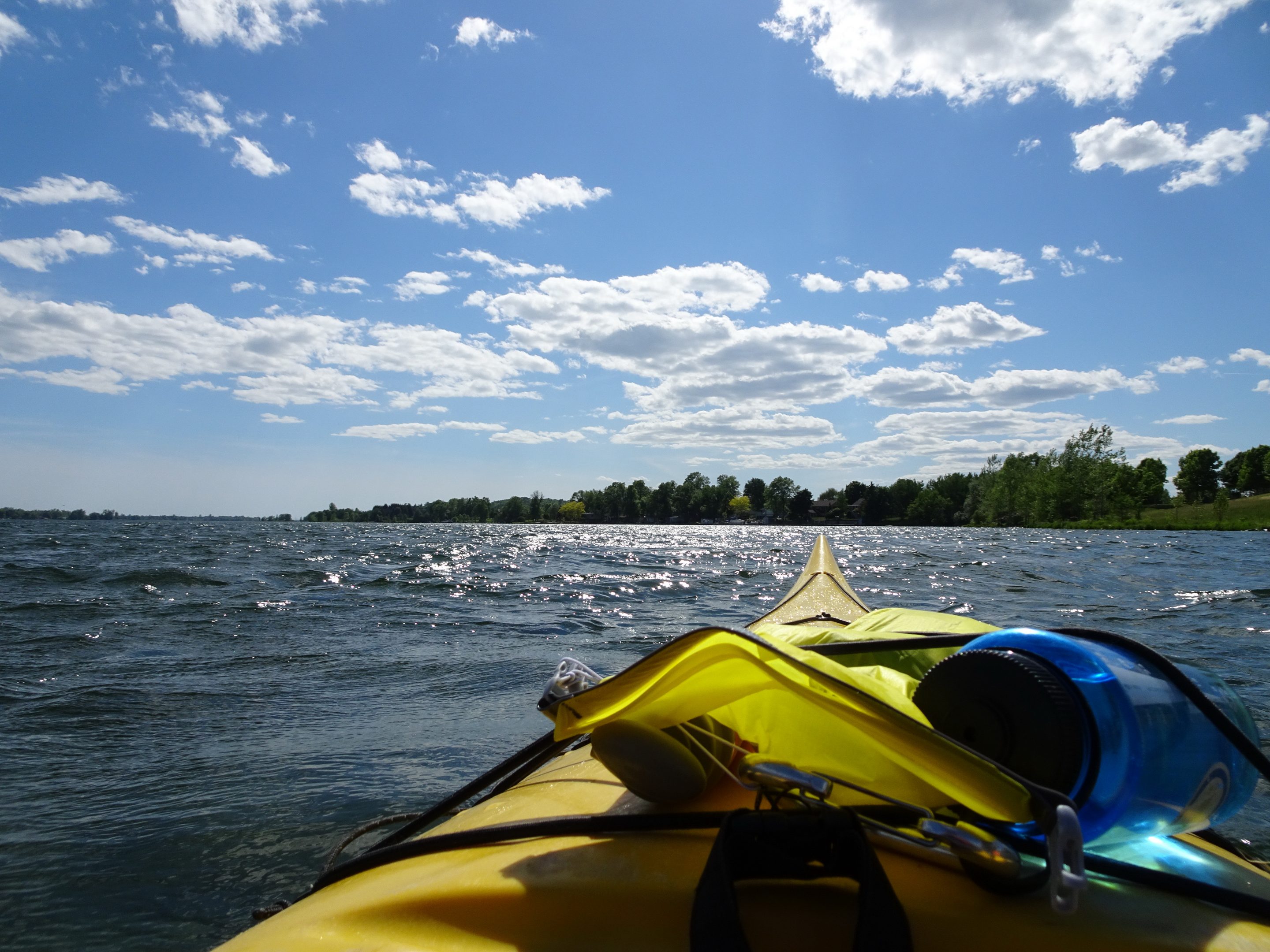 coaching by an adventure guide
kayak equipment: double or single sea kayak, paddle, skirt, mandatory safety equipment
kayak clothing: waterproof jacket, water shoe
camping equipment (if required): tent, mattress, sleeping bag, bag sheet
group equipment: kitchen, stove, shelter, satellite phone …
camping accommodation
all meals (except at the restaurant)
transportation to and from Quebec City or Montreal
The package does not include
personal expenses
snacks
personal insurance
tips for guides
Group equipment and food will be shared between participants' kayaks and guides. You can use your kayak equipment, we will check with you if everything is complete. To ask when registering.
The departure is in Quebec City and / or Montreal with a 15-passenger vehicle. Possibility of taking you on the way. You can also go on your own instead of the activity. If you make your trip, we offer you 5% discount, to ask when you register.
We think there is no bad weather in sea kayaking. The activity always takes place. In case of situation with a lot of rain, risk of thunderstorms or too big waves, the activity can be transferred. The final decision to cancel in case of bad weather is the responsibility of the guide or the administration of Quatre Natures.
Booking Policies
When booking a non-refundable deposit of 30% of the total amount of the invoice will be required. You must make your payment by credit card (VISA, MasterCard or American Express). If you cancel your reservation, we will keep only the non-refundable deposit. You also have the option of taking a cancellation insurance to be refunded the total amount of your order.

Cancellation insurance : When booking, you can take a cancellation insurance at the cost of 5% of your order. This allows the refund of the total amount of the activity except the portion of the insurance itself if you cancel your activity. Without cancellation insurance, no refund is granted except for major reasons with official proof.
Modification of a reservation : Any changes must be made by phone or email and are subject to availability.
* the itinerary is approximate and depends on the weather and the group